The history of tree beekeeping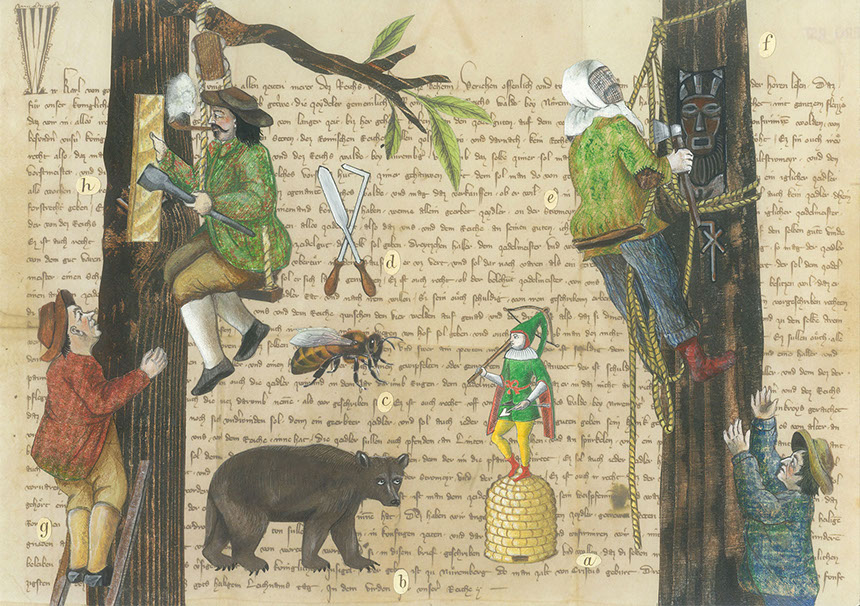 ©Irmela Schautz, Illustration from the book by Michaela Vieser and Irmela Schautz "From coffee-traders, caterers and whitefish taps – occupations from bygone times" C. Bertelsmann
During Middle Ages, tree-beekeeping was meant to be the professional collection of honey from wild or half-wild bee colonies, performed by tree-beekeepers. This word comes from the Latin word "excidere" (cut-out/resect) and the ancient German word "Zeideln" (cut honey).
Stone age people – as well as nature people of today – had been collecting honey of wild bees. But they did or do not do this profesionally. The tree-beekeepers, whose profession can be dated back to the Early Age, collected the honey of wild, half-wild or domesticated bees in the forests. They did not keep the bees in timbered bee-hives but in natural nesting sites in trees (artificial caves/hives).
Privileged status of tree-beekeepers
The tree-beekeepers educated guilds with certain legal traditions and carried out their own legal jurisdiction. In 1296, there was proof of an own jurisdiction in Feucht and of an own master of tree-beekeepes. This privileged status was noted by emperor Karl IV in his "Zeidel Freyheit Brief" in 1350. This document enfeoffed the tree-beekeepers with their own jurisdiction. As exterior sign of this privilege, their heads lead a white bar, the tree-beekeepers were allowed to have a weapon (crossbow) and were wearing a specific green costume with the typical long pointed cap (have a look at the tree-beekeeper's emblem at the castle in Feucht and on different Lebkuchen). For this reason, the tree-beekeepers had to lead the emperor safely through the forest of N¸rnberg, to deliver some hundredweights of beeswax to the Stephansdom, Vienna each year and some more other things.
It is interesting that this privilege (right of the tree-beekeepers) has never been cancelled, not even by the reformation of the Weimar Republic. Thus it is still valid today. You can find some jurisdictional traces of this privilege nowadays in Civil Law Code with its paragraphs regarding bees.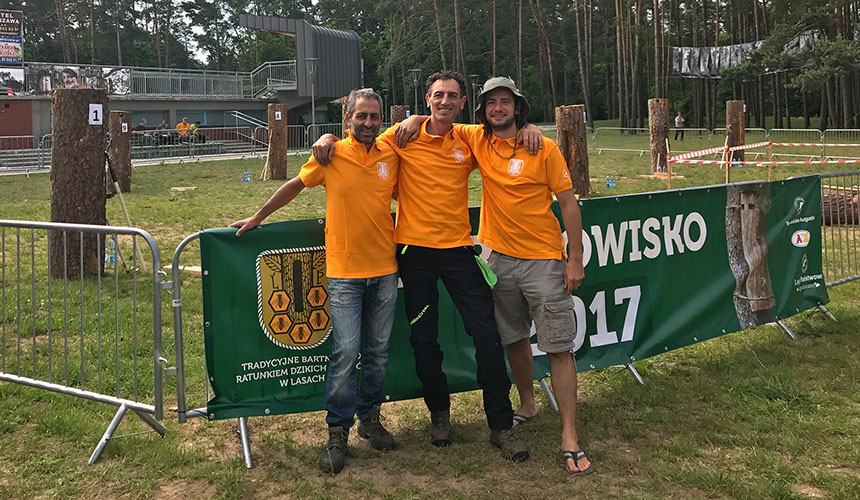 From left to right: Luciano Bartolomeo, Antonio Gurliaccio and Florian Kuttner
The keeping of forest bees in living trees and hives disappeared nearly completely from Europe at the end of the 19th century. The traditional technique has survived in Shulgan Tash Nature Reserve in southern Ural, Russia. Within the frame of a WWF project, financed by DEZA (Centre for development and cooperation), this technique has been studied and it was determined to bring back the traditional tree-beekeeping to Poland. This has resulted in more than 100 tree-beekeeper caves in living trees and hives, distributed in central Poland. The bee colonies are constantly and successfully taken care of by local beekeepers. In 2014, the "comeback" of this knowledge to Switzerland and Germany was realised with WWF and an initial seminar of the community "Free the bees" (André Wermelinger).
Antonio Gurliaccio, member of BIENENBOTSCHAFT: Education as tree-beekeeper in summer 2015 at a workshop at a centre in Ballenberg, Switzerland. He expanded his professional knowledge in 2016 at a tree-beekeeper competition "Barciowisko", an event of the forestry office Augustow, Poland.
In 2017 he even achieved the first rank with his colleague Florian Kuttner during the International Competition.
PDF – WWF History of tree-beekeeping in Poland
PDF – WWF Return of tree-beekeeping in Poland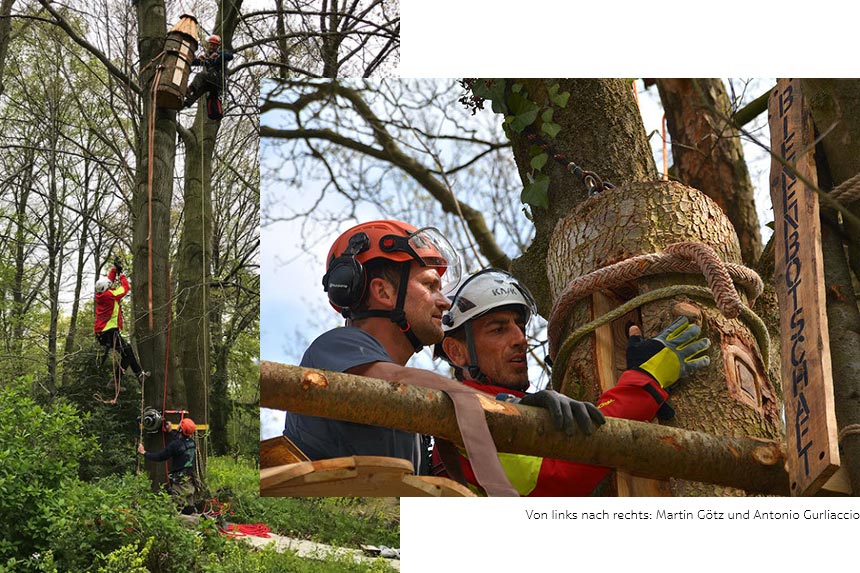 "Back to the roots – view of the future" – The rediscovery of the old tree-beekeeper trade and the insights of the latest scientific researches related to the life of the honey bee do confirm our work. This natural fashion of beekeeping does mostly correspond to the chosen conditions of the honey bees in natural hollow trunks.
According to the scientific research work of the well-known honey bee scientist and beekeeper Thomas D. Seeley, these natural homes support swarm intelligence, genetics, natural selection as well as Varroa tolerance for wild living bee populations. We see a big chance in our pioneer work for a healthy and thus flourishing future of our actually threatened honey bee. And if the bee is doing well, the nature and human being is also doing well. We are proud to be a creative power of this path.
Our book recommendations
Bienendemokratie (Honeybee Democracy) by Thomas D. Seeley
"The Most Captivating Science Book of the Year." – Financial Times
Auf der Spur der wilden Bienen (Following the wild bees, The craft and science of bee hunting) by Thomas D. Seeley
Die Honigfabrik (The Honey Factory: Inside the Ingenious World of Bees) by Prof. Dr. Jürgen Tautz
Handlungsanleitung für artgerechte Bienenhaltung mit Pseudoskorpionen (Guidance for species-appropriate beekeeping with pseudo-scorpions) by Torben Schiffer
Log hives supervised by us
Log hives supervised by local bee keepers
In planning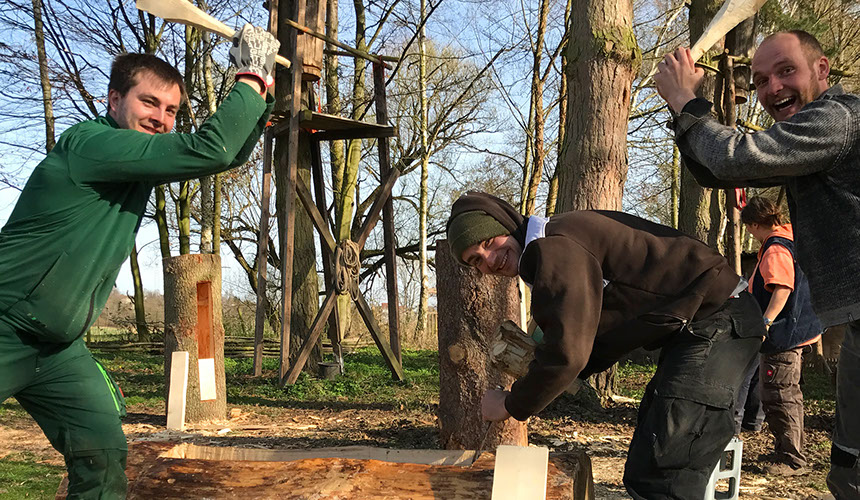 If as a gift or if you want to handle the saw by yourself: in 2019 you will have the opportunity to participate in one of our log-hive workshops at BIENENBOTSCHAFT. We will manufacture together with you log-hives following tree-beekeeper's fashion and adapted to the latest studies of Torben Schiffer (beenature-project) and Prof. Dr. Jürgen Tautz (Hobos). Of course, you may take your B3 log-hive with you at the end of the workshop. We are happy to welcome you!
Log-hive workshop -TreeBeeKeeping B3 at BEE EMBASSY 2019
Workshop Spring
April, 12rd–13th
(Friday and Saturday at BEE EMBASSY Kirchgasse 25 in 61184 Karben)
April 14th – (Only for interested students!)
09:30 am -12: 00 pm / Modern Zeidlerei Suspension of a log hunt with rope technique
On sunday morning we install with tree climber & arborist Martin Götz a log loot in about 6 meters height on a tree.
Workshop Summer (Specially)
June 07th–08th
(Friday and Saturday, Environmental Education Center Treasure Island Kühkopf, Außerhalb 27, 64589 Stockstadt am Rhein) Link: place of the event
Workshop autumn
September, 06th–07th
(Friday and Saturday at BEE EMBASSY, Kirchgasse 25 in 61184 Karben)
September 08th – (Only for interested students!)
09:30 am -12: 00 pm / Modern Zeidlerei Suspension of a log hunt with rope technique
On sunday morning we install with tree climber & arborist Martin Götz a log loot in about 6 meters height on a tree.
Course instructors and adjutants
Antonio Gurliaccio, Timo Schinz, Maksym Berendeyew, Florian Kuttner, Moses M. Mrohs, Martin Götz
Scientific talk with the experts
12. April
Andreas Kramer ( Organic beekeeping & Blühende Landschaften)
Antonio Gurliaccio (Analysis of microfauna and book scorpion)
07. June
Biologist Torben Schiffer (beenature-project)
06. September
Urs Heusser (Beekeeping of the dark bee Apis Mellifera, Switzerland)
Antonio Gurliaccio (Analysis of microfauna and book scorpion)
Total cost of workshop : € 690, – ( incl. 19% VAT)
Course fee, lecture speaker, provision of hand-forged Zeidler and special tools € 275, – / Costs of material Bulk loot B3 and complete material costs Equipment € 225, – plus 19% VAT/
incl. meals on the spot: € 95, – (2x warm organic lunch, 2x dinner, coffee & tea and soft drinks)
Those persons who have a certificate for chainsaw and protective clothes may effect the previous work by themselves. Otherwise, this work will be done by our instructors. You may bring your chainsaw (max. 12cm width and min. 35-40cm length).
Please bring along with you
Protective gloves and protective clothes, according to weather warm and rain-resistant, penknive and axe. Maybe you need a car with a trailer on the last day (for transportation of the log-hive, which may have from 180cm length and a diametre of to 60 cm).
If requested, we can deliver your finished log-hive to your home with our van. Fees are calculated according to the effort incurred.
FRIDAY
08:00
Welcome & Instructions
Presentation: history of tree-beekeeping, log-hive & construction of log-hive
09:00 – 13.00
Explanation of the tree-beekeeping tools and production run
Choice of the wooden trunk, practical start of log-hive construction
13:00
Lunch
14:00 – 18:00
Mode of operation of a block loot / look into the buzzing log hive / bee trees
Practice log pile construction B3
18:15 – 19:00
Evening meal
19:45 Uhr bis 22:30 Uhr
Lecture and discussion
SATURDAY
08:00
Talk & Instructions
08:30
Practical work log-hive construction B³
13:00
Lunch
14:00 – 18:00
Practical entrance hole and opening for revision
Wooden nail, wooden strips, pillow for cover
18:00 – 19:00
Completion of the Klotzbeute, charge & Finitum
19:00
Evening meal
Talk & Instructions / Finale oft he Workshop
If you have any further questions or need more information, please contact us by email. Your contact person is Antonio Gurliaccio of BEE EMBASSY (BIENENBOTSCHAFT )
(fields marked with a * are mandatory) According to the GDPR, we inform you that we will receive your personal data entered via this input mask by e-mail and use it exclusively to organize our paddling classes. We do not give out your data to third parties. If you have further questions, please do not hesitate to contact us!
The registration is binding only after payment receipt of the seminar fee to our account in time.
Total cost of workshop: € 690.
Antonio Gurliaccio
Frankfurter Volksbank
IBAN DE95 501 900 006 001 132 049
BIC FFVBDEFF
Log-hive workshop -TreeBeeKeeping B3
The most natural habitat for a healthy future for our honey bee!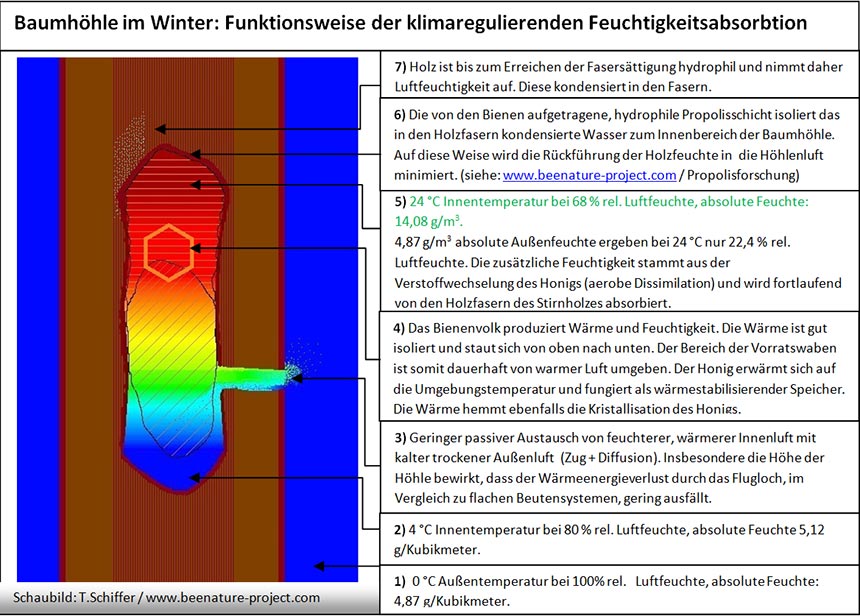 For the first time, Hobos and Beenature explore the physiological properties of tree hollows, based on their climatic conditions. For 45 million years, the bees lived here warm and dry – but then came the modern beehives
BIENENBOTSCHAFT is cooperation partner of HOBOS, Prof. Dr. Jürgen Tautz University of Würzburg with the Ext. Employees Department: Science & Research Torben Schiffer, and based on the latest research results, builds the evolved log loot according to "Zeidler Art B3" TreeBeekeeping B3 – The most natural habitat for a healthy future for our honeybee! If you are interested or have questions, please contact us!