The history of tree beekeeping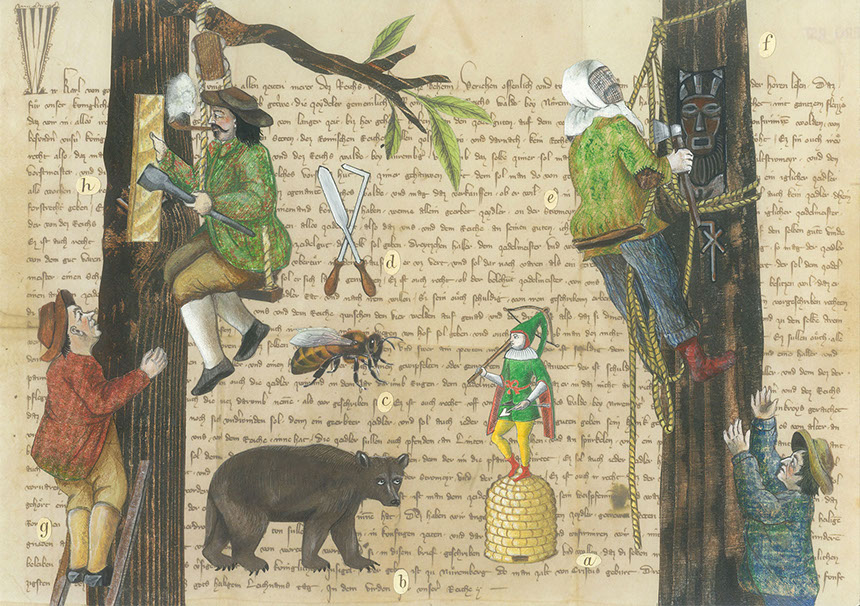 ©Irmela Schautz
, Illustration from the book by Michaela Vieser and Irmela Schautz "From coffee-traders, caterers and whitefish taps – occupations from bygone times" C. Bertelsmann
During Middle Ages, tree-beekeeping was meant to be the professional collection of honey from wild or half-wild bee colonies, performed by tree-beekeepers. This word comes from the Latin word "excidere" (cut-out/resect) and the ancient German word "Zeideln" (cut honey).
Stone age people – as well as nature people of today – had been collecting honey of wild bees. But they did or do not do this profesionally. The tree-beekeepers, whose profession can be dated back to the Early Age, collected the honey of wild, half-wild or domesticated bees in the forests. They did not keep the bees in timbered bee-hives but in natural nesting sites in trees (artificial caves/hives).
Privileged status of tree-beekeepers
The tree-beekeepers educated guilds with certain legal traditions and carried out their own legal jurisdiction. In 1296, there was proof of an own jurisdiction in Feucht and of an own master of tree-beekeepes. This privileged status was noted by emperor Karl IV in his "Zeidel Freyheit Brief" in 1350. This document enfeoffed the tree-beekeepers with their own jurisdiction. As exterior sign of this privilege, their heads lead a white bar, the tree-beekeepers were allowed to have a weapon (crossbow) and were wearing a specific green costume with the typical long pointed cap (have a look at the tree-beekeeper's emblem at the castle in Feucht and on different Lebkuchen). For this reason, the tree-beekeepers had to lead the emperor safely through the forest of N¸rnberg, to deliver some hundredweights of beeswax to the Stephansdom, Vienna each year and some more other things.
It is interesting that this privilege (right of the tree-beekeepers) has never been cancelled, not even by the reformation of the Weimar Republic. Thus it is still valid today. You can find some jurisdictional traces of this privilege nowadays in Civil Law Code with its paragraphs regarding bees.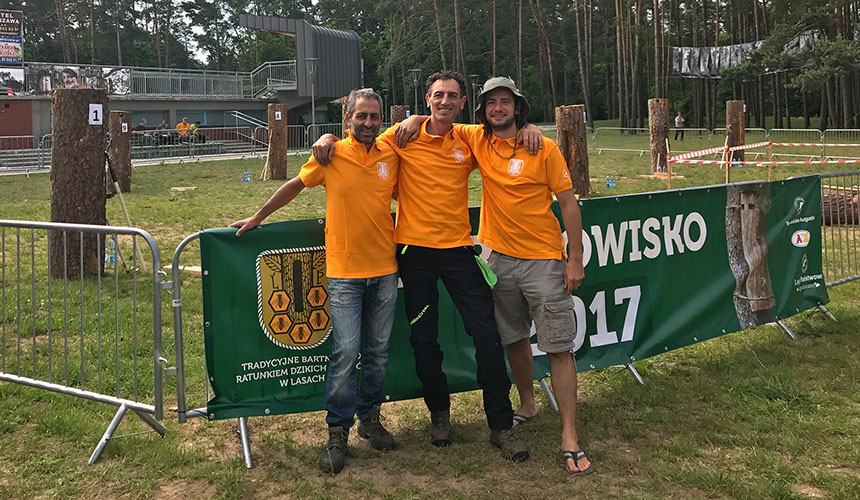 From left to right: Luciano Bartolomeo, Antonio Gurliaccio and Florian Kuttner
The keeping of forest bees in living trees and hives disappeared nearly completely from Europe at the end of the 19th century. The traditional technique has survived in Shulgan Tash Nature Reserve in southern Ural, Russia. Within the frame of a WWF project, financed by DEZA (Centre for development and cooperation), this technique has been studied and it was determined to bring back the traditional tree-beekeeping to Poland. This has resulted in more than 100 tree-beekeeper caves in living trees and hives, distributed in central Poland. The bee colonies are constantly and successfully taken care of by local beekeepers. In 2014, the "comeback" of this knowledge to Switzerland and Germany was realised with WWF and an initial seminar of the community "Free the bees" (André Wermelinger).
Antonio Gurliaccio, member of BIENENBOTSCHAFT: Education as tree-beekeeper in summer 2015 at a workshop at a centre in Ballenberg, Switzerland. He expanded his professional knowledge in 2016 at a tree-beekeeper competition "Barciowisko", an event of the forestry office Augustow, Poland.
In 2017 he even achieved the first rank with his colleague Florian Kuttner during the International Competition.
PDF – WWF History of tree-beekeeping in Poland
PDF – WWF Return of tree-beekeeping in Poland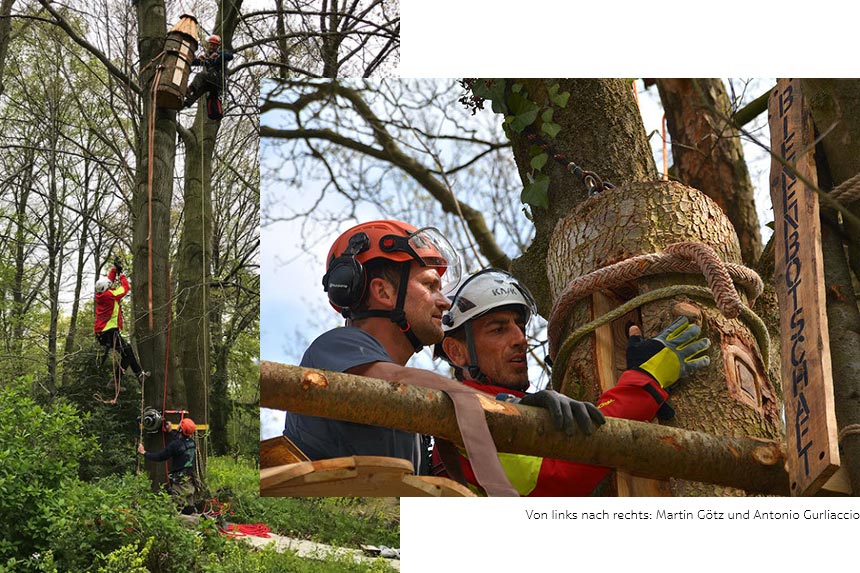 "Back to the roots – view of the future" – The rediscovery of the old tree-beekeeper trade and the insights of the latest scientific researches related to the life of the honey bee do confirm our work. This natural fashion of beekeeping does mostly correspond to the chosen conditions of the honey bees in natural hollow trunks.
According to the scientific research work of the well-known honey bee scientist and beekeeper Thomas D. Seeley, these natural homes support swarm intelligence, genetics, natural selection as well as Varroa tolerance for wild living bee populations. We see a big chance in our pioneer work for a healthy and thus flourishing future of our actually threatened honey bee. And if the bee is doing well, the nature and human being is also doing well. We are proud to be a creative power of this path.
Our book recommendations
Bienendemokratie (Honeybee Democracy) by Thomas D. Seeley
"The Most Captivating Science Book of the Year." – Financial Times
Auf der Spur der wilden Bienen (Following the wild bees, The craft and science of bee hunting) by Thomas D. Seeley
Die Honigfabrik (The Honey Factory: Inside the Ingenious World of Bees) by Prof. Dr. Jürgen Tautz
Handlungsanleitung für artgerechte Bienenhaltung mit Pseudoskorpionen (Guidance for species-appropriate beekeeping with pseudo-scorpions) by Torben Schiffer
Log hives supervised by us
Log hives supervised by local bee keepers
In planning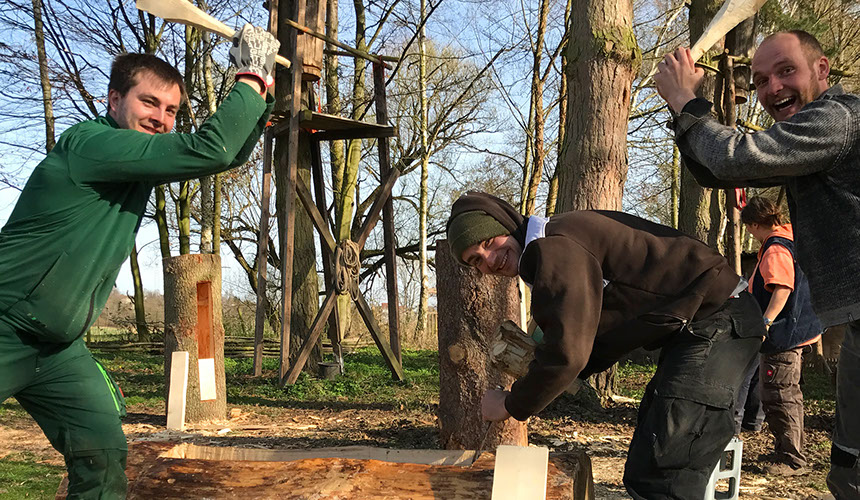 Log hive workshop according to Zeidler Art / natural habeetat * tree 2020
Whether as a gift or if you want to swing the saw yourself: in 2020 you will again have the opportunity to register for one of our log hive workshops in the BEE EBASSY. Together with you, we manufacturelog hives in the Zeidler style. Modified according to the latest scientific studies by Torben Shiffer (beenature-project) & Prof. Dr. Jürgen Tautz (Hobos). You can take your completed natural habeetat * tree with you at the end of the course. We look forward to you!
I. Workshop Spring: April 17 and 18, 2020 
II.Workshop Summer: August 21 and 22, 2020
Please register via our German website or write us an email, thak You:
Log-hive workshop -TreeBeeKeeping B3
The most natural habitat for a healthy future for our honey bee!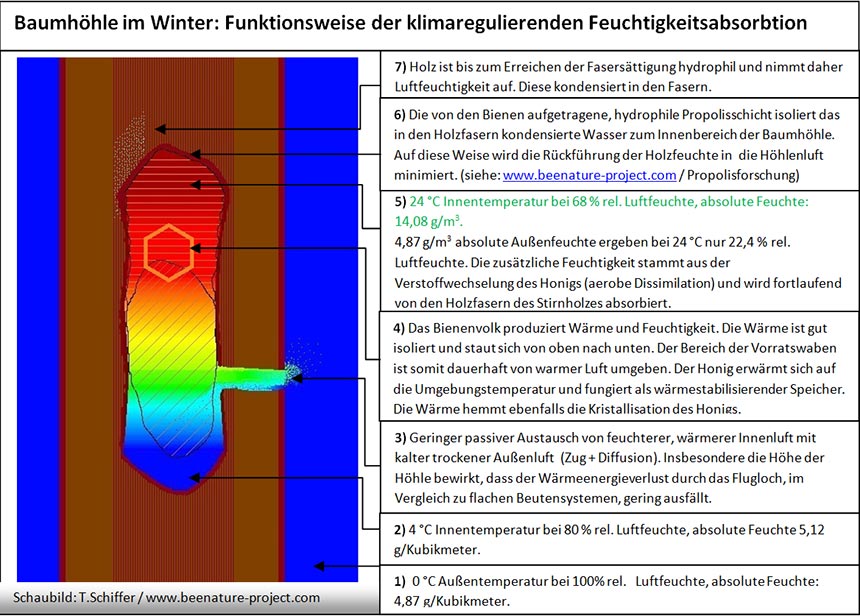 For the first time, Hobos and Beenature explore the physiological properties of tree hollows, based on their climatic conditions. For 45 million years, the bees lived here warm and dry – but then came the modern beehives
BIENENBOTSCHAFT is cooperation partner of HOBOS, Prof. Dr. Jürgen Tautz University of Würzburg with the Ext. Employees Department: Science & Research Torben Schiffer, and based on the latest research results, builds the evolved log loot according to "Zeidler Art B3" TreeBeekeeping B3 – The most natural habitat for a healthy future for our honeybee! If you are interested or have questions, please contact us!